Goodyear Tire & Rubber Company like so many other corporations trying to be woke, got busted. It seems Goodyear has a new policy called zero-tolerance policy outlining what it is acceptable in the workplace and what is not. Here is the slide taken by an employee from a "diversity training" showing what Goodyear deems acceptable & what is not.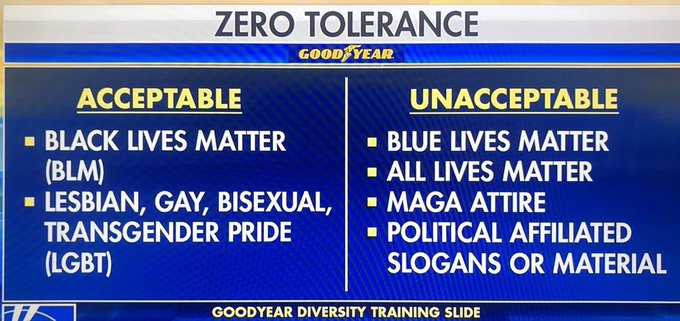 More information from the employee who disclosed the audio of the meeting:
"If someone wants to wear a BLM shirt in here, then cool. I'm not going to get offended about it. But at the same time, if someone's not going to be able to wear something that is politically based, even in the farthest stretch of the imagination, that's discriminatory," said the employee under the agreement of anonymity due to fears they could lose their job. "If we're talking about equality, then it needs to be equality. If not, it's discrimination."
And in case you hadn't heard when you click on the donate button on the Black Lives Matter website it takes you directly to a secure ActBlue donation page. Try it and see. Those donations do not go straight to Black Lives Matter, rather, they first pass through ActBlue Charities, a fundraising group that bankrolls Democrat and progressive political efforts across the country. In the fine print they disclose that "ActBlue takes "just a 3.95% processing fee" and any donations that are rejected by an organization, or go unclaimed for more than 60 days, "will be re-designated as a contribution to ActBlue." How nice, considering that Michael Jordan and the Jordan Brand donated $100 Million to BLM and other organizations in the ongoing fight against racial injustice, that's a sizable cut for ActBlue! Oh and also every single Democrat Party presidential candidate is/was a client of ActBlue.
Aloha, Mikie ~just a blogger (fightin' like a girl)
~Psst, tired of politics? Check out Travel in the Categories drop down menu (right side panel) for my blogs posted from interesting locations during my travel adventures.